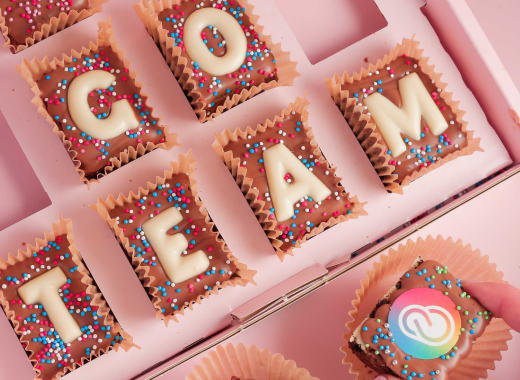 Make them feel appreciated
Whether you are congratulating the team, welcoming a new member, celebrating a product launch, supporting valued clients or just want to say thank you, Browniegod is here to help.
Meet the internet's favourite brownies. They're 100% natural and baked in small batches using the finest Belgian chocolate.
Surprise with a Personalised gift

Diverse products for all occasions

Made in a kitchen, not a factory
Trending corporate products
Popular designs that are quick and easy to order.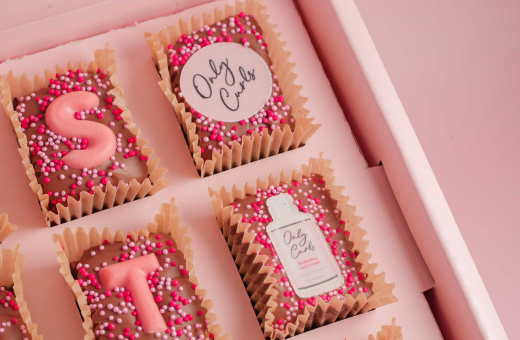 Surprise with a personalised gift
Create a personalised gift box with your images (logo, photos, etc.), brownie message, and brand colours! Make it extra special by adding a bespoke note, luxury gift wrap, and more.  
Explore our brochure to see the different personalisation options available.
Simply fill out the form below and one of our corporate gifting specialists will be in touch to discuss your options.
Frequently Asked Questions
How can I order?

Complete the enquiry form above or email orders@browniegod.com with brief information about the order size, delivery date, and where they will be shipped.

Our team will contact you with further information about our products and assist you with your order.
Will the brownies be safe in transit

Yes, absolutely. We have spent a lot of effort developing the best packaging for the brownies to arrive in the best condition possible. We can proudly say that we've delivered thousands of boxes across the UK, and almost all packages have arrived beautifully. In the rare instance there is an issue, our team will happily resolve this.
What are the delivery options?

We deliver to the United Kingdom of Great Britain and Northern Ireland via the couriers Royal Mail and DPD.
Shelf life

Once delivered, our brownies have a shelf-life of up to 1 week at room temperature. For maximum freshness, we recommend not opening your package until you plan to eat the brownies and preserve them at room temperature for the best results.

You may refrigerate them to keep up to 2 weeks or freeze them well wrapped for up to 1 month of deliciousness. We recommend leaving the brownies at room temperature for 3 hours before serving.
Sustainability

Our packaging is completely plastic-free and fully recyclable. It is locally manufactured in Europe to lower its transportation footprint versus importing abroad. We have carefully selected the materials used to ensure the majority are also biodegradable.
Brownie allergens

Please note we make all our products in an environment where nuts, peanuts, eggs, milk, soya, sesame and gluten are present. For this reason, we cannot guarantee they are free from traces of these allergens. Our brownies may contain milk, eggs, soya, wheat (gluten), and nuts. We have gluten-free options available.
Gluten free options

Yes, flavours have a gluten-free marking!

In our brochure, you can check out the flavours page, or if you're ordering from our site, it will be visible in the flavour selection options or the allergens section of the product.
Are your brownies suitable for vegetarians? Vegan options?

Vegetarian:

The majority of our brownies are! Check the allergens section of the brownie page to see if so.

Vegan:
We can accommodate vegan flavours for larger quantity orders. Contact our team at orders@browniegod.com to get further information.
Are your brownies halal? What about kosher?

Halal:

Our pink and red sprinkles contain E120, making them unsuitable for a halal diet. If you follow a halal diet, we recommend choosing our alternative colour options when customising your brownies. For our S'mores brownies, the marshmallow is made using HMC certified halal beef gelatine.

Kosher:

Our brownies are currently not kosher.