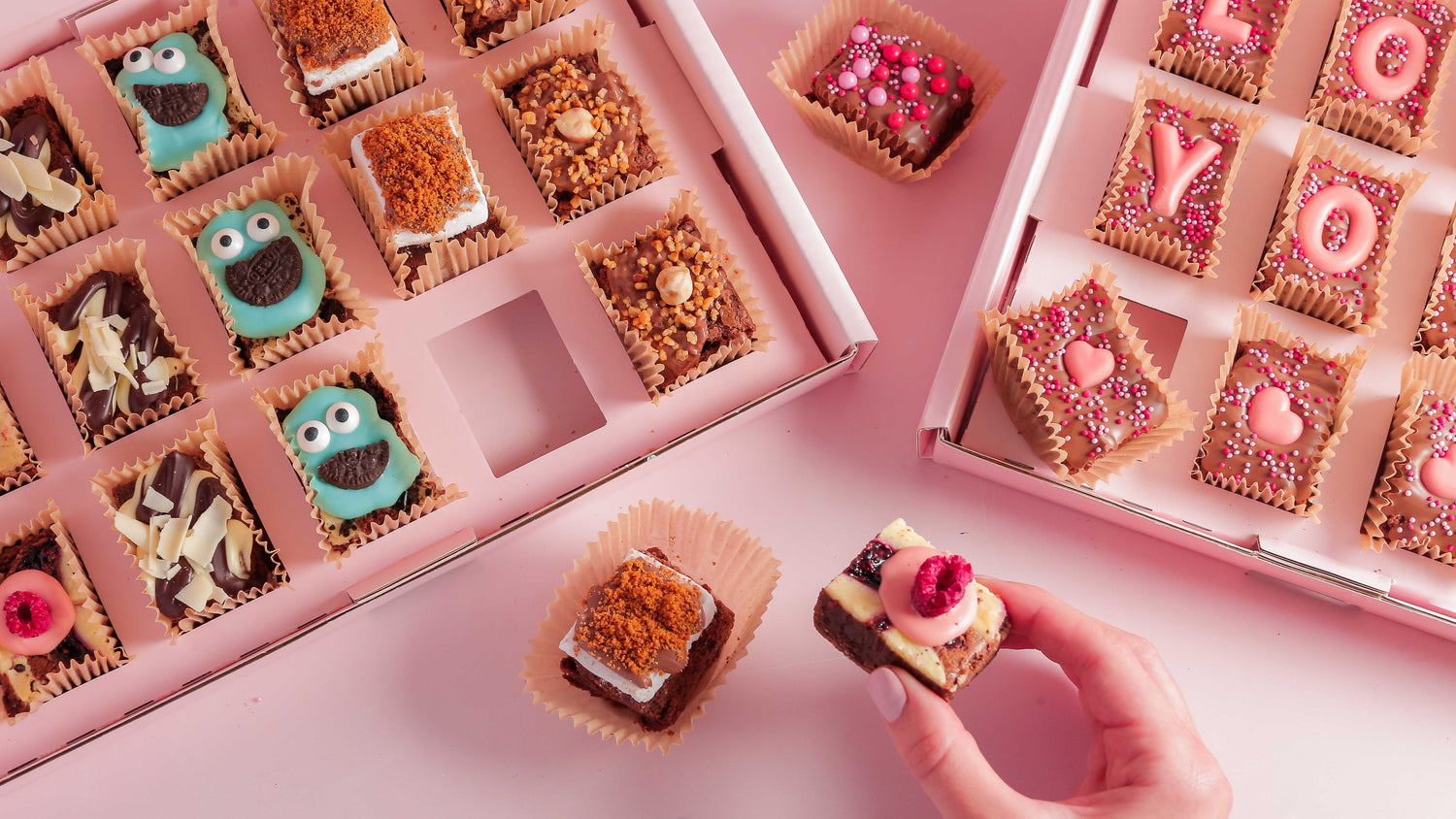 Frequently Asked Questions
Collapsible content
Make changes to order

Email orders@browniegod.com and include:
     1. order number (e.g. #1103)
     2. the change requested (e.g. I want to change the flavour/ I need to change the address)

Please note we only accept order changes sent in three working days before your chosen delivery date.
Can my order be shipped to a hotel, hospital, or public place?

The courier will send the package to their mailroom (instead of the reception or any requested location). The mailroom will only accept the package if you are a permanent staff member or resident. For this reason, we highly discourage this unless you can guarantee delivery (a refund will not be applicable for failed deliveries).
Can I choose the delivery date?

Yes, you can select the delivery date! On the checkout page, a calendar shows all the available dates.


Some dates are blocked out as we have reached maximum capacity for this day or the kitchen is closed.
Delivery and cost

We deliver to the United Kingdom of Great Britain via our courier Royal Mail. Delivery notifications are sent over email from the courier on the day of dispatch. The shipping cost is £3.50
Track my package

To track your parcel, you will receive emails from both Browniegod and Royal Mail containing a tracking link.  
Placed order but not received a confirmation email

Please check your spam or junk mail. If you are still not able to find it, please contact us via email at orders@browniegod.com
Do I have to be home to receive my order?

You do need to be at home to receive your order. You can select your delivery date at the checkout so please select a date that you will be home. We also send you a 1-hour time slot on the day of delivery for you to expect your order in.

If you are not home to receive your order, your order may be delayed till the next day or after the weekend (if you select a Friday delivery day).
What happens if I'm not home when order is delivered?

If you won't be home when your delivery is attempted, please go through your tracking link and select for your order to be delivered to a neighbour or left in a safe place.
Collapsible content
Shelf life

Once delivered, our brownies have a shelf-life of up to 1 week at room temperature. For maximum freshness, we recommend not opening your package until you plan to eat the brownies and preserve them at room temperature for the best results.

You may refrigerate them to keep up to 2 weeks or freeze them well wrapped for up to 1 month of deliciousness. We recommend leaving the brownies at room temperature for 3 hours before serving.
Do you have content restrictions for personalisation?

Do you have content restrictions for personalisation?
Brownies size and box options

Our serving suggestions are 1-2 pieces per person.

Brownie boxes are available in 4 sizes: box of 12 and 15 individual pieces or, 20 and 30 piece slabs.

Each brownie measures approximately 3.5cm (w) x 4.5cm (l) 
How many letters can I add for your custom products ?

This varies per product but generally the following applies:
Box of 12: 4 letters per 3 rows
Box of 15: 5 letters per 3 rows
20 piece slab: 7 letters per 3 rows
30 piece slab: 10 letters per 4 rows
Brownie Allergens

Please note we make all our products in an environment where nuts, peanuts, eggs, milk, soya, sesame and gluten are present. For this reason, we cannot guarantee they are free from traces of these allergens. Our brownies may contain milk, eggs, soya, wheat (gluten), and nuts. We have gluten-free options available.
Gluten free options

Yes! You can use the search feature at the top of the page. 

Most of our custom products have gluten-free options available.
Are your brownies halal ?

Our pink and red sprinkles contain E120, making them unsuitable for a halal diet. If you follow a halal diet, we recommend choosing our alternative colour options when customising your brownies. For our S'mores brownies, the marshmallow is made using HMC certified halal beef gelatine.
Are your brownies suitable for vegetarians ?

The majority of our brownies are! Check the allergens section of the brownie page to see if so.
Are your brownies kosher ?

Our brownies are currently not kosher.
Collapsible content
Adding a personalised note

Yes! You can add a personalised note on the checkout page free of charge.
Does the brownie box include a paper receipt/invoice inside ?

No, it does not. All information relating to the order is sent via email.
Sustainability

Our packaging is completely plastic-free and fully recyclable. It is locally manufactured in Europe to lower its transportation footprint versus importing abroad. We have carefully selected the materials used to ensure the majority are also biodegradable.
Collapsible content
Cancellation

More than three working days before your chosen delivery date 

There is a fee of £1 (covers the transaction costs charged by payment providers).




Less than three working days before your chosen delivery date

Due to the personalisation of our products, preparation begins days in advance, and we bake the brownies to order. For this reason, cancellation within this period is unfortunately not possible as we have made all the necessary preparations, and this would lead to unnecessary food waste.




*Working days count from Monday to Friday as Saturday and Sunday the kitchen is closed.
Issues or faults

Our team will be more than happy to resolve any issues. Please email orders@browniegod.com within 24 hours of your delivery: 1) picture showing fault 2) order number. We review all complaints and may ask you to ship back the product to receive a refund. All refunds are subject to manager review.
Wrong delivery address

Before the order is shipped, we will email you 1) order confirmation containing the address 2) a second email to double-check the address and delivery date. If you spot any changes before dispatch, we are happy to make amendments. However, if already dispatched, we can not make any changes and are not responsible for lost parcels.

As a goodwill gesture, we may accept to make a second brownie for free but ask that you pay the cost of shipping and packaging (£10).
Student, NHS and other promotions

For the moment we are not running any promotions.